Chimney Savers offers the most thorough Chimney Sweeping Service and utilizes only CSIA (Chimney Institute of America) certified technicians. (Yes, we have our Top Hats too.)
Technicians with
the "know how"
We use the latest in video scanning technology with both traditional and powered rotary sweeping tools and high velocity industrial HEPA vacuums.
Why line your chimney?
1. Older homes have no lining at all, which is very dangerous because of toxic fumes and heat transfer issues!
2. Most homes that do have chimney liners have clay tile liners which can wear out quickly from use by today's efficient home heating appliances.
3. In fireplace and wood stove applications clay tile liners are easily destroyed by a chimney fire, usually due to creosote buildup.
A locally owned and operated family business Founded in 1997.
Chimney Savers is proud to be Massachusetts' favorite cast in place liner installer, and one of the areas premier chimney sweep companies, performing complete new chimney construction, total chimney restoration, small repairs and anything in between.
Did you know the NFPA set 3 levels of chimney inspection? Find out what level is appriopriate for the inspection of your chimney.
Did you know there are 3 very important reasons to get a chimney cap installed on top of your chimney to cover your flue(s).
No job too big, no job too small! Chimney Savers specializes in the construction, repair and maintenance of chimneys.

Your local licensed, insured and certified chimney sweep
Masonry Foreman - David Watt (left) and Chimney Sweep Technician - Jimmy Beaudoin (right)
The 3 Levels of Chimney Inspection
Chimney Masonry Construction & Repair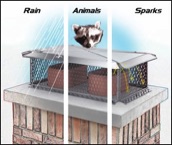 James DiCrescenzo video scan inspecting a chimney